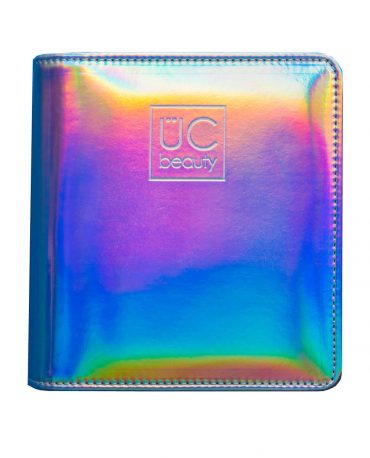 Uberchic Mini Holographic Nail Stamp Storage Binder...
£14.99
One word: Holo-tasty 😉 You people begged us for a mini folder as holotastic as our large ones and we've finally made it! It's just like the big one only it's sized for our mini plates! It's a folder system as versatile as your plate collection. For those that are in love with organization – get our all new mini plate storage binder!
Do you have things alphabetized only to add another plate and throw it all off? We've got you covered! Our exclusive Mini Holographic Nail Stamp Binder organizes all your mini plates in complete style! Up your organizational game and get our all new Mini Holo plate binder today!
This folder is built to comfortably hold seven pages (2 mini plates to a page) – but we included a few extra pages in case you wanted to overfill it (as we know some of you like to do). That means you can store 14 mini stamp plates or up to 20 minis if you are feeling particularly confident. 😉
QUICK FACTS:
Comfortably holds 7 pages (2 mini plates to a page) but includes 10 total ultra-clear pages if you'd like to over-stuff it with up to 20 of our mini plates
Measures: 5 x 5.25 x 1.5
In stock
Compare