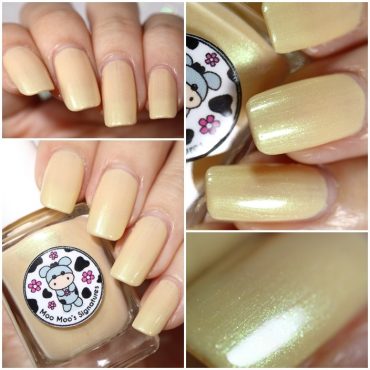 Elixir Of Life – The Legend of...
£8.50
A delicate pastel peach with gold/green shimmer and tiny green flakies.
"Elixir of Life represents the medicine of immortality taken by Chang E and she became moon Goddess, so she lives forever.." – based on one of the legends for Mid-Autumn/Mooncake Festival which is celebrated by Chinese and Vietnamese.
Part of The Legend of Moon Goddess Collection
Moo Moo's polish is Big 4 Free and Cruelty-Free. It does not contain formaldehyde, toluene or DBP. 12ml per bottle.
DISCLOSURE: As nature of handmade, there may be slight variances between batches. This makes every moo moo polish unique and special. Glitters and pigments may settle to the bottom of the bottle over time, please shake the bottle before use. Due to camera settings & different monitor settings, our moo moo polish may look slightly different when you receive it.
CAUTION: Nail polish is flammable. Please keep it away from children and do not use it in the presence of open flame or spark. For external use only.
In stock
Compare